Get the finest in Old Fashioned Quality & Taste at Hahns' of Westminster Wholesale.
Contact our wholesale department by phone 410.848.4200 or email here
​
Hahn's of Westminster, MD
Get the finest in Old Fashioned Quality & Taste of

Hahn's at our Westminster, MD.
Retail Store "Pork and Beans"
Product Offerings

:
​
Hahn's Famous Products:
Ham
Bacon
Sausage
Roast Beef
Corned Beef
​
Hahn's Pork & Beans Products:
Vicki and Val's Creations:
Sweet Maple Sauce, Good and Evil Sauce, Tequila Chili Sauce,
BBQ

Sauces,
Sweet Bourbon Ham Sauce,
Snappy Guacamole Dip.
​
Locally Made Products By:
Texas Brigade BBQ
Astro Pig Seasonings
Crabby Mary
Union Mill Flour
Chef Tim's
Mouth Party Caramels
Tilamook Jerky
Stash Teas
Polock Johnnys
McDaniel Farms Honey
Gunther's Gourmet
Baugher's
And More...
​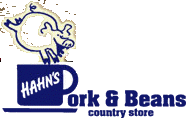 Visit...
Vicki & Val and experience the hickory smoked smells in the air of our famous bacon and hams. Enter our store and take in the the aroma of freshly roasted coffee and the friendly atmosphere. We have many items available in the store, including:
​
Hahn's hams, bacon, sausage, Corned beef and Roast beef.

Fresh roasted coffee available by the cup, half pound or pound.

Deli sandwiches. Eat-In or Take-Out.

Coffee mugs and Gift sets.

Jams, preserves, local honey, sauces, dips, salsa and rubs.

Chocolate Covered Espresso Beans and Caramels.
Our product offerings change frequently, so please stop by and see what's new.
Coffee Special's
Gift Certificates

and more...